Rune Universe
Very good and fast paced story, with a lot of out-game action. Missing a lot of the more 'traditional' game elements, but the reader won't even notice.

-Rune Universe reader
Cole Dorsett inherited a bleak world.
Virtual Reality Games are another distraction among a hundred, all designed to keep content a stagnant society.
He's not a political mastermind or a genius hacker. He's just a Script Kiddie who makes a living selling private information.
And then… there's Rune Universe.
A game with a billion worlds. With great interstellar alliances, unending adventure, spaceships that dance around black holes.
Rune hides a secret the CIA would very much love to crack…
Soon, Cole will have to face his destiny in the never-ending horizons of Rune Universe. He will have to make a choice. …If he survives.
Read Rune Universe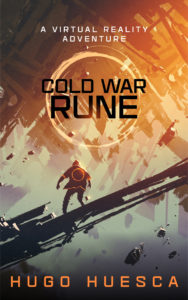 Cold War Rune
A Virtual Universe for the taking. A world in the eye of the storm. The year is 2042.
Cole Dorsett went into hiding.
A mad Prophet roams the streets while the
corporations scramble to seize power.
When strange drones begin searching for Cole, he must reunite with his friends and fight for survival.
And in the background, the second Cold War stirs.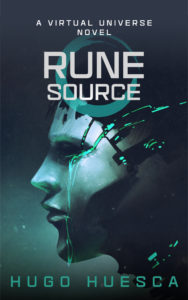 Rune Source
The awaited finale of the Rune Universe trilogy.
All adventures must end.
Find out about Rune Source release date here
Rune Zero
Rune Zero is the Free Standalone prequel of Rune Universe.
You can read it now!
When Angelica Morrow finds her husband's mangled body lying in her bathtub, she believes she has gone insane.
She was talking to him on her cellphone when she found the corpse. Senator Morrow didn't appear to know that he's dead.
Rising CIA John Derry has been tasked to find the Senator's killer before the murder goes public.
To do so, he must recruit the help of David Terrance, formerly one of the best hackers in the world.
With the promise of regaining his freedom and the chance of getting his family back together, David Terrance must follow
the lead of a mysterious hacker, all the while battling with a sickness that makes him doubt his grasp on reality.
Stakes run high when the bodies start to pile up. Can David find the killer before it's too late? Or will he lose his
sanity and even his life in the process?
The only thing he knows for sure is that things are not what they look like…
Journey Back to Mars
"For readers who like stories that startle, provoke, and amuse, Hugo Huesca delivers it all and more in Journey Back to Mars." Stefan Vucak
Journey Back to Mars is Hugo Huesca's  Free collection of short stories inspired by retro-science fiction.
The seven stories in Hugo Huesca's retro-flavored sci-fi collection are a mix of strange futures, surprising twists, danger, and adventure . Not all of them are idyllic, not all of them end up happily. But all of them are inspired by that classic sci-fi era where dystopia was still a thought-experiment and not a genre upon itself. This collection is a love-letter to the Golden Age of Science Fiction that defined a generation.
Grab your Free copy of Journey Back to Mars, today!